How To Sell Cars With TikTok: A Guide For Car Dealers (2022)
Jul 28, 2022
See how TikTok is rising in popularity among every demographics, and not just teens, car dealerships are starting to wonder how to tap into that new media with tons of potential.
If we go back a few years ago, TikTok used to be about dancing & trends. It has now evolved into a great place to learn about concepts & promote your business.
As of today, I'm starting to see more and more car dealerships roll into the trending social media app to sell their vehicles. While I understand that everyone is still learning here, I'm seeing some things that should be avoided if you're trying to build a solid following & most importantly, generate sales from this media.
On my end, I've been working with car dealerships looking to create a new sales channel for their business as they've seen Google ads & Facebook ads drop in ROI over the past few years.
But here's the question: How can your dealership take advantage of this new platform?
There are a lot of people on TikTok that upload videos showing off their everyday life or hopping on trends dancing & lip-syncing. I do understand why car dealerships are still confused because hoping to go viral is not a viable marketing strategy.
When I talk to you guys, here's what I hear:
"TikTok is for kids & teens"
"There are no car buyers on this app"
"TikTok is just a silly dance app"
But is TikTok really no good for car dealerships? Let's dive in. I'm telling you. Like any media platform out there, you can find proven frameworks that will increase your likelihood of success in the short term & drive exponential results.
This is your chance to create content based on challenges, trending hashtags, dance, dialogue reenactments, answering questions, behind-the-scenes, collaborations & live streams.
What is TikTok and how does it work
The popular short-form video streaming and sharing app, Musical.ly (launched in 2014) tracked how much we laugh when someone makes entertaining content on our favorite platform.
The immense popularity of this particular social media site led to more than 100 million users by August 2018 with countless videos shared across different platforms like Instagram which is why you should definitely check it out for yourself today!
The app was taken over by a Chinese company called ByteDance in August 2018 and users were automatically transferred to TikTok. All of the content from Musical.ly has now been moved over to that new platform.
As of today, TikTok has been the fastest growing social media app the world has seen so far.
Why TikTok is so powerful
There are many reasons why TikTok is going through a meteoric rise. The most important in my opinion is this: They understand how to entertain their users.
They are tracking users' behavior like no other app on the market.
Here's how they're doing it:
It was recently reported that TikTok has begun collecting biometric data from its users in the form of "faceprints" or voiceprints.
These are unique digital replicas created by analyzing a person's appearances which behavior they express through words as well as tones during different interactions with others including phone calls etcetera.
In other words, it knows when you're happy, laughing & entertained.
Let's jump to the next reason why it's so powerful: The algorithm.
The TikTok algorithm: How it works
The more engagement you get on your TikTok videos, the larger audience they're likely to be seen by. Engagement can come from likes, comments and shares – so make sure people are engaged in what's happening right now!
The popular app TikTok has an algorithm that serves videos to users based on their preferences. Factors include:
Audio
Video Likes
Comments
Shares
Completions
Average watch time
Re-watches
Subject
Hashtags
Caption
User feedback
Should Your Car Dealership Be on TikTok?
It's just a matter of time before car dealerships hit TikTok in droves. It makes sense to reach car buyers in your market using both organic & paid methods. But how?
Organic: TikTok lets you input hashtags in your caption. This is where you'll insert local areas and cities to give you a chance to show up in your prospects For You Page.
Paid: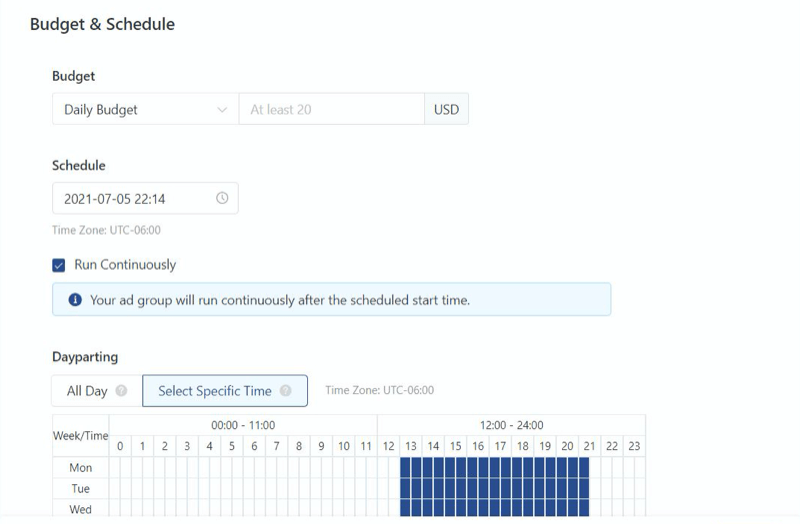 4 Reasons why car dealers should be on TikTok
I scoured the web to find stats showing you why TikTok is not going away and why your dealership should find a way to use it ASAP:
#1 Monthly Active Users
TikTok officially has over 1 billion monthly active users. For reference – active users of other social platforms: Facebook – 2.9B, YouTube – 2.2B, Instagram – 1.4B, TikTok – 1.0B, Snapchat – 500M, Pinterest – 480M, Twitter – 397M.
#2 Total App Downloads
The TikTok app has been downloaded over 2.6 billion times worldwide, as reported by Sensor Tower in December, 2020. In January 2021, TikTok had 62 million downloads.
In Q1 of 2020, the app had 315 million downloads, which is the best quarter by any app, ever. 500 million of those come from India, 180 million from China, and 130 million from the U.S.
In June of 2020 TikTok was downloaded 87 million times worldwide (with 7.5 million of those coming from the U.S.).
#3 Monthly Active Users in the United States
TikTok now has over 138 million active users in the U.S. That's about a third of the nation. Want the best part? People are posting, searching and liking videos about cars:
#4 Demographics
10-19 – 32.5%, 20-29 – 29.5%, 30-39 – 16.4%, 40-49 – 13.9%, 50+ – 7.1%. This means more than 1/3 of TikTok users are aged above 30 years old and this number is growing fast.
This means that the TikTok user base is aging up (so get on it now before it's saturated!).
How your car dealer can get started with TikTok
As you're joining TikTok, you'll have a choice of 2 account types. You'll need to choose one to complete your profile. Don't worry, if you ever want to switch in the future, it's quite easy and fast.
What's the difference between Creator & Business accounts?
TikTok Business account: With a business account, businesses can connect with customers more efficiently and quickly than with personal accounts.
Businesses often use video ads instead of individualized ones because they want people who With a TikTok Business account, you can share the company and brand image to help more people know about your products or services.
Should you create a Creator or Business account for your car dealership
The best way for new TikTok account might be to wait until they've built up some followers before changing their account type to Business.
This is simply because "business" accounts give more insights than just pros/creators but again this all depends on what kind of stats intrigue us most at the moment…
For now, TikTok seems to be favoring "Creator" accounts when it comes to growth.
Pros of using Creator TikTok accounts for your business:
The best way to improve your TikTok performance is by having a personal account. With access to all of the trending music on it, you can make videos that are more professionally made and perform much better than those who only use pro accounts!
TikTok users tend to connect more with popular & trending songs vs. more generic, commercial use approved music you'll find with your business account.
With a personal account, you have access to all the trending music on TikTok which means that your videos will be more engaging for viewers and help them get through their day.
Cons of using Creator TikTok accounts for your business:
Example of a viral TikTok video made by a Ford car dealership hoping on the latest trends
The video is sitting at 130,000 views as I'm writing this post.
How amazing is this?
Now, going viral should not be the ultimate goal because more often than not you'll find yourself getting just a handful of views.
But here's what I like most about this video: the comments section.
People are commenting very positively about that video saying things like "I'm coming to your store next" or "I'm trading my Ford Expedition with you guys".
Crazy no?
There has never been a time when car dealers would get so much exposure for free.
Would you like to access 25+ videos hand-picked to make you a TikTok pro before the end of the day? Create your free Autobahn Academy account and start training.
Are car buyers using TikTok?
TikTok is not about teens dancing and lip-syncing nowadays. TikTok users have huge purchasing power and it'll only get better.
The platform is also getting smarter about targeting a local area, which favors car dealerships big time.
This is a chance for you & your store to create a solid connection and brand with your primary market area for little to no dollar investment.
Now that we know that 37% of daily TikTok users are aged above 30 years old (as of March 2022), we can dig in and see what they're actually into when it comes to vehicles:
Want to book a free 1:1 call with me & discuss how to use TikTok in your car dealership? Click here.
Want Autobahn Digital to run your automotive TikTok Ads? Click here.